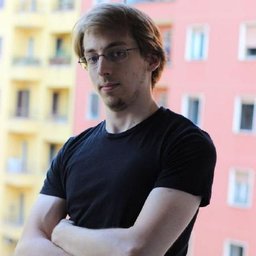 Luca Cappelletti
PhD Student
MSc: 2019; M.Sc. in Computer Science; University of Milano
Email: luca (dot) cappelletti1 (at) unimi (dot) it
Luca Cappelletti is a Computer Science PhD student in the AnacletoLAB, the Computational Biology and Bioinformatics lab of the University of Milan. In 2017 he received a BSc in Computer Engineering at Polytechnic University of Milan, Italy and in 2019 a MSc in computer Science at Università degli Studi of Milan, Italy. His current research involves developing high-performance tools to run machine learning tasks on graphs, such as processing, embedding, link prediction, node and edge-label prediction, focusing on bioinformatics applications.
Publications
L. Cappelletti, J. Gliozzo, A. Petrini and G. Valentini. Training Neural Networks with Balanced Mini-batch to Improve the Prediction of Pathogenic Genomic Variants in Mendelian Diseases. Sensors & Transducers, IFSA Publishing, SL 234(6), 2019.
A. Cuzzocrea, L. Cappelletti and G. Valentini. A neural model for the prediction of pathogenic genomic variants in Mendelian diseases. Proceedings of the 1st International Conference on Advances in Signal Processing and Artificial Intelligence (ASPAI'19), Barcelona, Spain, 2019.
L. Cappelletti, T. Fontana, G. Donato, L. Tucci, E. Casiraghi and G. Valentini. Complex Data Imputation by Auto-Encoders and Convolutional Neural Networks—A Case Study on Genome Gap-Filling. Computers, Multidisciplinary Digital Publishing Institute 9(2), 2020.
L. Cappelletti, A. Petrini, J. Gliozzo, E. Casiraghi, M. Schubach, M. Kircher and G. Valentini. Bayesian optimization improves tissue-specific prediction of active regulatory regions with deep neural networks. International Work-Conference on Bioinformatics and Biomedical Engineering, 2020.
A. Petrini, M. Mesiti, M. Schubach, M. Frasca, D. Danis, M. Re, G. Grossi, L. Cappelletti, T. Castrignanò, P. Robinson and Others. parSMURF, a high-performance computing tool for the genome-wide detection of pathogenic variants. GigaScience, Oxford University Press 9(5), 2020.